our Products
Flea & Tick
Heartworm Preventatives
Wormers
Ear & Eye
Panoramis (aka Trifexis) for Dogs - 10.1 - 20lbs - ORANGE - 6 Chewable Tabs

Panoramis (aka Trifexis) for Dogs - 10.1 - 20lbs - ORANGE - 6 Chewable Tabs
Zoom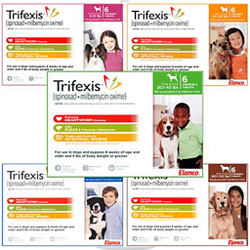 Ask questions
Tell a friend
Panoramis (aka Trifexis) for Dogs - 10.1 - 20lbs - ORANGE - 6 Chewable Tabs
Item Code
821
Category
Heartworm Preventatives
Brand
Trifexis
Unite Price
$78.95
Quantity

Description
What is Panoramis (aka Trifexis)?
Trifexis is a chewable tablet that kills fleas and prevents infestations, protects against heartworms, and treats and controls adult hookworm, roundworm, and whipworm infections. Trifexis requires a prescription from your veterinarian.
For: Dogs (8 weeks of age and older and weighing at least 5 lbs)
Benefits:
. Begins killing biting fleas within 30 minutes
. Kills fleas before they can lay eggs
. Prevents heartworm disease
. Treats and controls roundworms, hookworms, and whipworms
. Artificial beef flavor made from pork liver and hydrolyzed soy
. Easy to administer chewable tablet
How it works:
Spinosad, an active ingredient in Trifexis, starts to work within 30 minutes to kill fleas and has been proven to kill 100% of all biting fleas within 4 hours. Trifexis also kills flea eggs before they can mature, which helps to end the flea life cycle. Trifexis prevents heartworm disease by killing microfilariae and larvae from maturing into adult heartworms.
Cautions:
Serious adverse reactions have been reported following concomitant extra-label use of ivermectin with spinosad alone, one of the components of Trifexis chewable tablets. Use with caution in breeding females. The safe use of Trifexis in breeding males has not been evaluated. Use with caution in dogs with pre-existing epilepsy. Puppies less than 14 weeks of age may experience a higher rate of vomiting. Consult your veterinarian for pregnant or lactating dogs.