our Products
Flea & Tick
Heartworm Preventatives
Wormers
Ear & Eye
Simparica for X-Small Dogs - 3 - 6 lbs - YELLOW - 6 tablets

Simparica for X-Small Dogs - 3 - 6 lbs - YELLOW - 6 tablets
Zoom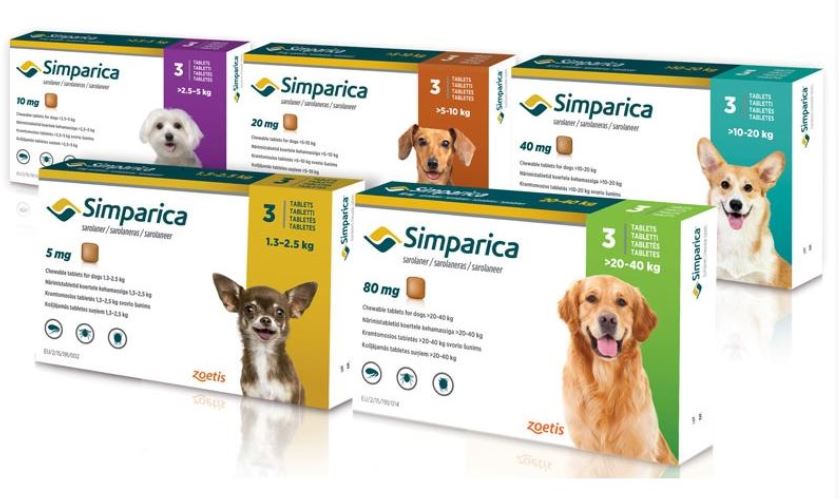 Ask questions
Tell a friend
Simparica for X-Small Dogs - 3 - 6 lbs - YELLOW - 6 tablets
Item Code
1466
Category
Flea & Tick
Brand
Simparica
Unite Price
$55.00
Quantity

Description
Simparica (sarolaner) Chewables are safe, monthly flea and tick protection for dogs that start working fast and remain effective all month long.
Simparica starts killing fleas within 3 hours and ticks within 8 hours, and it keeps going strong for 35 days without losing effectiveness at the end of the month.
Proven persistent protection against fleas and ticks.
Simparica is effective against fleas and ticks, even on day 35! You can count on Simparica to do the following:
Benefits:
Provide rapid relief for pets with existing flea infestations, even dogs with flea allergies
Improve clinical signs of flea allergies in dogs by eliminating fleas
Prevent and control home flea infestations, killing fleas before they can lay eggs
Quickly kill ticks, which may help reduce the risk of potentially life-threatening flea- and tick-borne diseases
Uses
For the treatment of flea infestations (Ctenocephalides felis and Ctenocephalides canis) in dogs. Simparica has immediate and persistent flea killing activity against new infestations for at least 5 weeks. Simparica can be used as part of a treatment strategy for the control of Flea Allergy Dermatitis (FAD). For the treatment of tick infestations (Dermacentor reticulatus, Ixodes hexagonus, Ixodes ricinus and Rhipicephalus sanguineus). Simparica has immediate and persistent tick killing activity for at least 5 weeks. For the treatment of sarcoptic mange (Sarcoptes scabiei). Fleas and ticks must attach to the host and commence feeding in order to be exposed to the active substance.
Dosage
| Color | Pets | Weight (lb) | Weight (kg) | Sarolaner |
| --- | --- | --- | --- | --- |
| Yellow | Very Small Dogs | 2.8 - 5.5 lbs | 1.3 - 2.5 kg | 5 mg |
| Purple | Small Dogs | 5.6 - 11 lbs | > 2.5 - 5 kg | 10 mg |
| Orange | Medium Dogs | 11.1 - 22 lbs | > 5 - 10 kg | 20 mg |
| Blue | Large Dogs | 22.1 - 44 lbs | > 10 - 20 kg | 40 mg |
| Green | Extra Large Dogs | 44.1 - 88 lbs | > 20 - 40 kg | 80 mg |
Directions for Use
Use appropriate combination of available strengths to achieve the recommended dose of 2ĘC4 mg/kg. Simparica tablets are chewable and palatable and readily consumed by dogs when offered by the owner. If the tablet is not taken up voluntarily by the dog it can also be given with food or directly into the mouth. The tablets should not be divided. Treatment schedule: For optimal control of flea and tick infestations, Simparica should be administered at monthly intervals and continued throughout the flea and/or tick season based on local epidemiological situations. For the treatment of sarcoptic mange (caused by Sarcoptes scabiei var. canis) a single dose should be administered at monthly intervals for two consecutive months.
Cautions
Do not use in cases of hypersensitivity to the active substance or to any of the excipients. Parasites need to start feeding on the host to become exposed to sarolaner; therefore, the transmission of infectious parasite-borne diseases cannot be excluded. In the absence of available data, treatment of puppies less than 8 weeks of age and/or dogs less than 1.3 kg bodyweight should be based on a benefit-risk assessment by the responsible veterinarian. The safety of Simparica has not been established during pregnancy and lactation or in animals intended for breeding. Laboratory studies in rats and rabbits have not produced any evidence of any teratogenic effects. Use only according to the benefit/risk assessment by the responsible veterinarian. Simparica has been administered orally to 8 week old Beagle puppies at doses of 0, 1, 3, and 5 times the maximum dose of 4 mg/kg at 28 day intervals for 10 doses. No adverse effects were observed at the maximum dose of 4 mg/kg. In the overdose groups, transient and self-limiting neurological signs were observed in some animals: mild tremors at 3 times the maximum dose and convulsions at 5 times the maximum dose. All dogs recovered without treatment. Sarolaner is well tolerated in Collies with a deficient multidrug-resistance-protein 1 (MDR1 -/-) following single oral administration at 5 times the recommended dose. No treatment-related clinical signs were observed. User warnings Wash hands after handling the product. The accidental ingestion of the product may potentially result in adverse effects, such as transient excitatory neurological signs. To prevent children from accessing the product, only one chewable tablet at a time should be removed from the blister pack and only when required. The blister pack should then be returned into the carton immediately after use and the carton should be stored out of the sight and reach of children. In case of accidental ingestion, seek medical advice immediately and show the package leaflet or label to the physician.
Active Ingredient : Sarolaner
Manufacturer: Zoetis