our Products
Flea & Tick
Heartworm Preventatives
Wormers
Ear & Eye
Program Dogs 45 - 88lbs.....6 tablets

Program Dogs 45 - 88lbs.....6 tablets
Zoom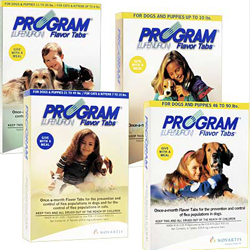 Ask questions
Tell a friend
Program Dogs 45 - 88lbs.....6 tablets
Item Code
222
Category
Flea & Tick
Brand
Program
Unite Price
$31.95
Quantity

Description
What are Program Tablets?
Program Tablets are a monthly oral flea preventative for dogs and cats. Program Tablets inhibit/prevent development of flea eggs, but do not kill adult fleas. Program is 100% safe and effective in preventing and controlling flea populations. If you would like your pet to have immediate relief from fleas, consider using Capstar Flea Treatment Tablets (sold separately) along with Program, for a complete flea management program.
For:
Dogs (4 weeks of age an older)
Cats (4 weeks of age and older)
Benefits:
� Beef flavored tablets
� Breaks the life cycle of fleas
� Safe, easy oral solution
How it works:
Program Tablets contain lufenuron. Lufenuron is an insect development inhibitor which breaks the flea life cycle by inhibiting egg development. It was created to be absorbed with your pets metabolism of its meal. Therefore, if you do not give Program to your pet with a full meal, it may not work at its full potential. Lufenuron has no effect on the pre-existing adult fleas in your home and yard, so you may still see these fleas even after treatment with Program begins. This does not mean that Program is not working. Based on clinical studies, you could continue to see these pre-existing fleas during the first 30 to 60 days. It is important to treat all of your pets with Program to effectively kill the flea cycle. Otherwise, fleas will feed on your untreated pets and regain the ability to lay eggs.
Cautions:
Make sure that your pet eats the whole tablet.